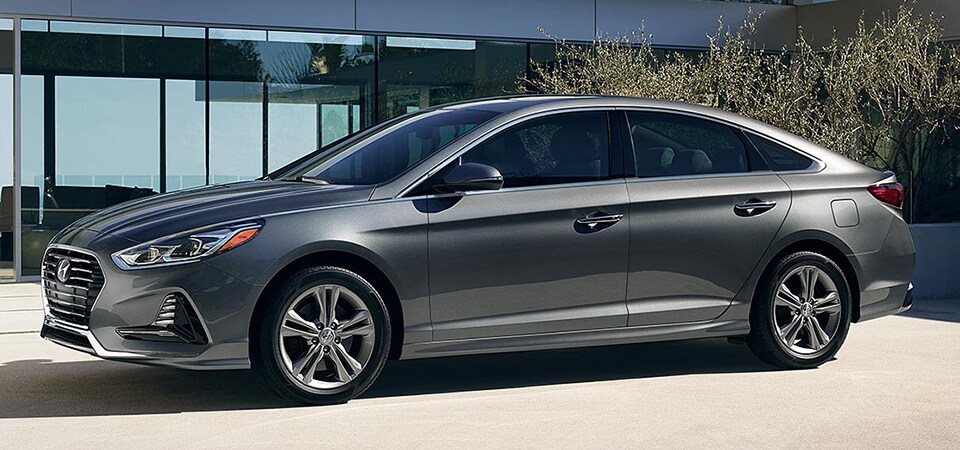 When the new 2018 Sonata arrives at Parks Hyundai of Gainesville this summer, your car can be transformed into your happy place. The road to happiness in Gainesville, Florida begins with a comfortable ride, and the new 2018 Hyundai Sonata provides that, and much more.
Call 866-530-3617 To Learn More about the 2018 Sonata
A More Comfortable Commute
There's no way for us to shorten your daily commute, or keep Monday morning from coming, but we can make it better and a more enjoyable driving experience. In the new 2018 Hyundai Sonata, we've revamped the exterior and added new standard and available features designed to keep owners in Gainesville, Florida safer and more comfortable than ever. We believe that when you drive a better car, it makes you a happy driver. And happy drivers are better drivers.

The 2018 Hyundai Soanta offers a variety of different trims, allowing our Gainesville, Florida customers to find the model best suited to meet their own unique needs. Maybe the new 2018 Sonata Eco cna offer what you're looking for in your next vehicle, with its innovative 1.6L Turbo GDI engine that produces 178 horsepower and 195 lb.-ft. of torque. Or maybe the Sonata Limited, with its LED Headlights with Dynamic Bending Lights (DBL) is what you need to elevate your everyday Gainesville drive. Whatever your needs, there's a 2018 Sonata that's perfect for you.
Sonata Interior Innovation
The Integrated Memory System (IMS) for Driver seat and side mirrors featured in the new 2018 Hyundai Sonata ensures that these all-new models will remember your ideal driving position every time you enter the vehicle. Features that include Blind Spot Detection with Rear Cross-traffic Alert and Lane Change Assist helps the 2018 Hyundai see, even when you can't. It's a level of interior innovation our Gainesville, Florida customers are looking for in their next vehicle, and you'll find them, along with many more, in the new 2018 Sonata.

Wireless charging in the 2018 Hyundai Sonata is just one example of how these all-new models are taking interior convenience to previously unexplored levels. Apple CarPlay™ and Android Auto™ ensure that 2018 Hyundai Sonata owners in Gainesville, Florida are able to remain completely connected at all times. Sonata even offers a Hands-free Smart trunk that can open itself, providing easy access to the spacious trunk area available with these new 2018 Sonata models.
Call 866-530-3617 To Learn More about the 2018 Sonata
Parks Hyundai of Gainesville serves customers from West Hills, Windsor, Rochelle, Gainesville and all of the surrounding communities, helping them find the new 2018 Sonata that best fits their unique South Florida driving style. We're proud of the exceptional level of service that our Hyundai sales team is known for providing, and we work hard to ensure that each person that enters our dealership leaves satisfied. When it's time to purchase your new 2018 Sonata, stop in and speak with the friendly and knowledgeable sales personnel at Parks Hyundai of Gainesville.